We have introduced the Ticket System with version 2.2.18! This newest addition to the game is very closely linked with Special Events, so we strongly recommend you to check here and here first. If you just want a quick summary, keep reading!
The Tickets can be accessed from the Merge Mini-game popup, located on the top right corner.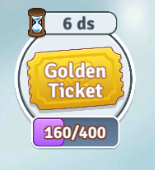 You can play the Mini-game and collect Special Event Tokens. By collecting these tokens, you can fill your progress bar and claim items from your Tickets.

There are two types of Tickets:

Free Ticket: Everyone has access to the Free Ticket. The more tokens you collect, the more tiers you will unlock. After reaching Tier 40, for every tier you unlock, you will get a Mystery Reward! Exciting, isn't it?

Golden Ticket: Golden Ticket can be unlocked by purchasing, and it will grant you access to the even more rewards and items! Once you purchase it, you will immediately jump 5 tiers ahead and can claim those rewards! Wow!
Please note: Golden Ticket is essentially a way to get more rewards but it does not directly give rewards. You still need to fill the bar and claim your rewards manually.
There is also an important bonus that comes with purchasing a Golden Ticket. If you are a club member, when you purchase the Golden Ticket, your other members will earn a Magic Sauce as a result of your generosity!